About CASME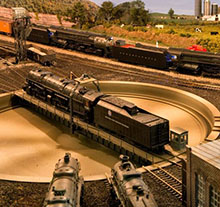 Membership
Membership is currently Full. We are not accepting applications at this time. Please contact us for further info!
The club allows up to 45 memberships for interested persons, 12 years or older.
The Junior membership is for ages 12 through 15.
The Student membership is for ages 16 through 17
The Senior membership is for persons 18 and older.
The Friends of CASME membership is for persons 18 or older who wish to participate in club social activities, but do not wish to have a vote in club decisions or do not wish to hold any elected office or operate on the layout.

Dues Structure Initiation Fees for new members
Senior Member: Dues $15.00/Month, plus a $15.00 one time payment
Student Member: Dues $8.00/Month, plus a $8.00 one time payment
Junior Member: Dues $2.00/Month, plus a $5.00 one time payment
Friends of CASME Member: Dues $5.00/Month, plus a $5.00 one time payment